Camp Kin is a weekend of camping that takes place on a country estate. Camp Kin is like a family-friendly camping holiday with a bit of festival mixed in. This means everyone will be camping in tents or campervans and be able to enjoy a small number workshops, activities and music.
GETTING THERE
You can come to Camp Kin by car, or by train. Most people arrive by car. When you arrive there will be people in brightly coloured jackets called stewards who will point the way. At the entrance entrance a steward will ask you for your ticket code and give you a wristband. The wristband is to show the people who work at Camp Kin that you have paid for a ticket so you will need to keep it on all weekend, you can even shower with it on! The car park is not very far from where you will be camping in camping zones already marked out. You can ask for help to move your stuff from the carpark to your camping pitch if you need.
CAMPING
There are a few options for camping at Camp Kin. You can stay in boutique camping tents, such as a bell tent or yurt. All groups will have a pre-assigned camping pitch, so that there is plenty of space between groups. You might also notice crew camping areas, which is where the people working at the festival will sleep.
FOOD
You will either need to bring some food with you and a stove to cook on, or you can buy freshly cooked food at the festival. There are a few food stalls to buy from and they are all meat and fish free. You are welcome to bring meat and fish to cook yourself though. The Food stalls can get quite busy during meal times. At the bar you can get drinks if you are thirsty. There are also free water points, although you will need to bring your own bottle.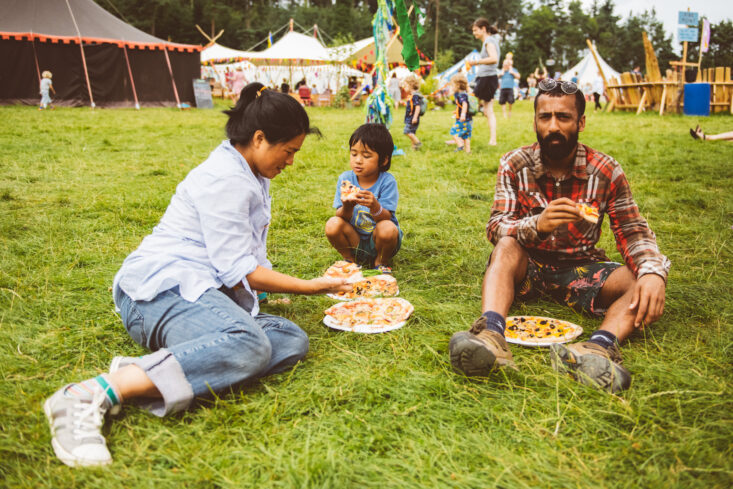 ENTERTAINMENT & ACTIVITIES
At the centre of camp, by the lake there is the Hub. This is where many of the activities take place and is where there is a stage, seating, a bar and some food stalls.
Every evening there will be some live music performances on the stage for you to watch and even dance to. There is an area with arts and crafts that you can sit at and do craft activities. You can also hire out games equipment to play in the open field, and even a table tennis table.
There are other activities taking place around the site such as bush craft, paddleboarding, yoga and more. Most of these are free, but some of these require booking before hand.
There is also a big wood area called The Enchanted Woods. This is a calm and quiet are with some art in the trees.
Camp Kin can change a bit in the evening as the firepit is lit and music starts. At this time lots of people might go to the Hub to enjoy the music and dance. Some of the music will be relaxing and some will be high energy and loud. The music stops at midnight, so everyone can go to bed and get a good nights sleep. If you want to go to sleep before this you may hear the music coming from the Hub from your tent.
FINDING HELP
There are lots of people working at Camp Kin and they are all are there to help you if you are lost, anxious or unwell. You can go to the Info Point if you have a question or the Medical Tent if you feel unwell. If you are unsure about where to go, there are stewards in bright jackets all over the place who can help you or take you to the right place.
GOING HOME
At the end of the festival everyone packs up their things and heads home. You must leave the festival by midday on Sunday so that the people working at the festival can tidy up the festival site. Because everyone leaves on Sunday there are often traffic jams. Please remember to tidy up your rubbish so we can leave the farm as we found it, and the animals can return to a tidy, litter-free field.
TOP TIPS:
1. As soon as your tent is up explore the festival site so that you know where everything is.
2. Organise a meeting point with your friends and family in case you get lost. Pick somewhere that is easy to find.
3. If you don't like loud or sudden noises bring some headphones with you.