We have worked with Hearthworks for many years at Shambala and are so pleased that they are providing their gorgeous tipis at Camp Kin. Expertly crafted by a cohort of family and friends, who truly put sustainability at the heart of their work, they offer the chance to stay under canvas and get elemental.
Treat your tribe to a stay in a traditional Tipi with plush trimmings, with an option to pitch your own tent alongside too. Here's what they've got on offer: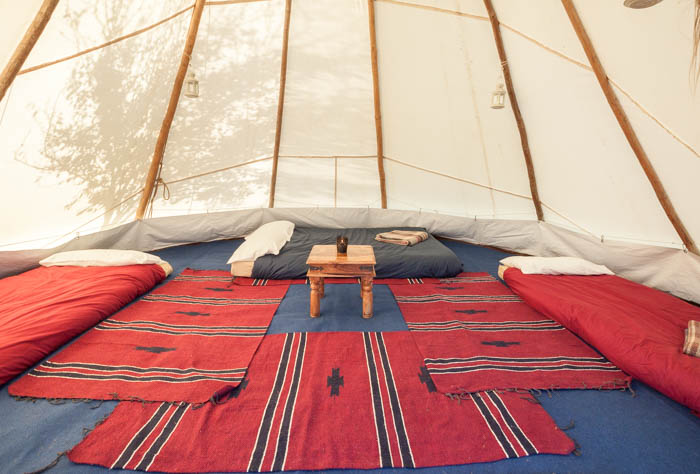 18ft TRADITIONAL TIPI
with private toilet. 4 berth
Gorgeous, decked out Tipi for 4. This comes kitted to the nines with 3 futon-style mattresses (double and two singles), 13.5 tog duvet to keep you toasty, wool blankets, handwoven rugs, and cushions. You'll also get a low rosewood table and LED lanterns. Each pitch comes with it's own private toilet.
Have a few more folks in your bubble? Feel free to add a tent, as long as it fits (guy ropes and all!) within the boundary of the pitch, measuring 10M X 10M. Glamping drop off point available.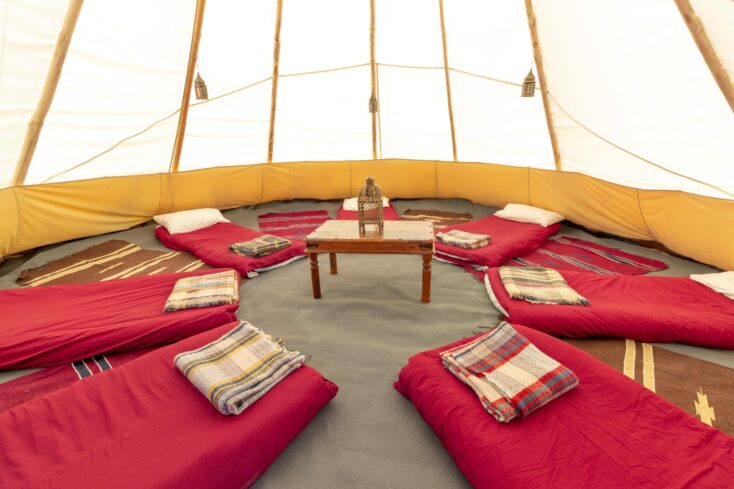 21ft TRADITIONAL TIPI
with private toilet. 6 berth
This option fits 6! You'll be treated to the same as above – with 6 futon mattresses, all the rustic furnishings including 13.5 tog duvets, rugs, LED lanterns and woollen blankets.
You're very welcome to add a tent to your pitch, if it fits within your 10M X 10M pitch and complies with any government restrictions about household bubbles at the time of the event. You can of course add this on after booking, if restrictions loose up!